Bloggers or writers invest a great amount of time in writing posts. The work is more tedious when huge lists are put into a single post. These list posts or any other posts on the websites should be shared by your audience so that you could reach more number of people. It is not a convenient method for your users to go to the particular social networking site and share it. Hence, you've to facilitate a medium or a way through which they could easily share your valuable posts in a fraction of seconds. If your website is based on WordPress, WordPress social sharing plugins will help you in achieving this. In this post, we have collected a list of some of the best and free social sharing plugins for WordPress.
The following list consists of the social sharing plugins which are free and paid.
Monarch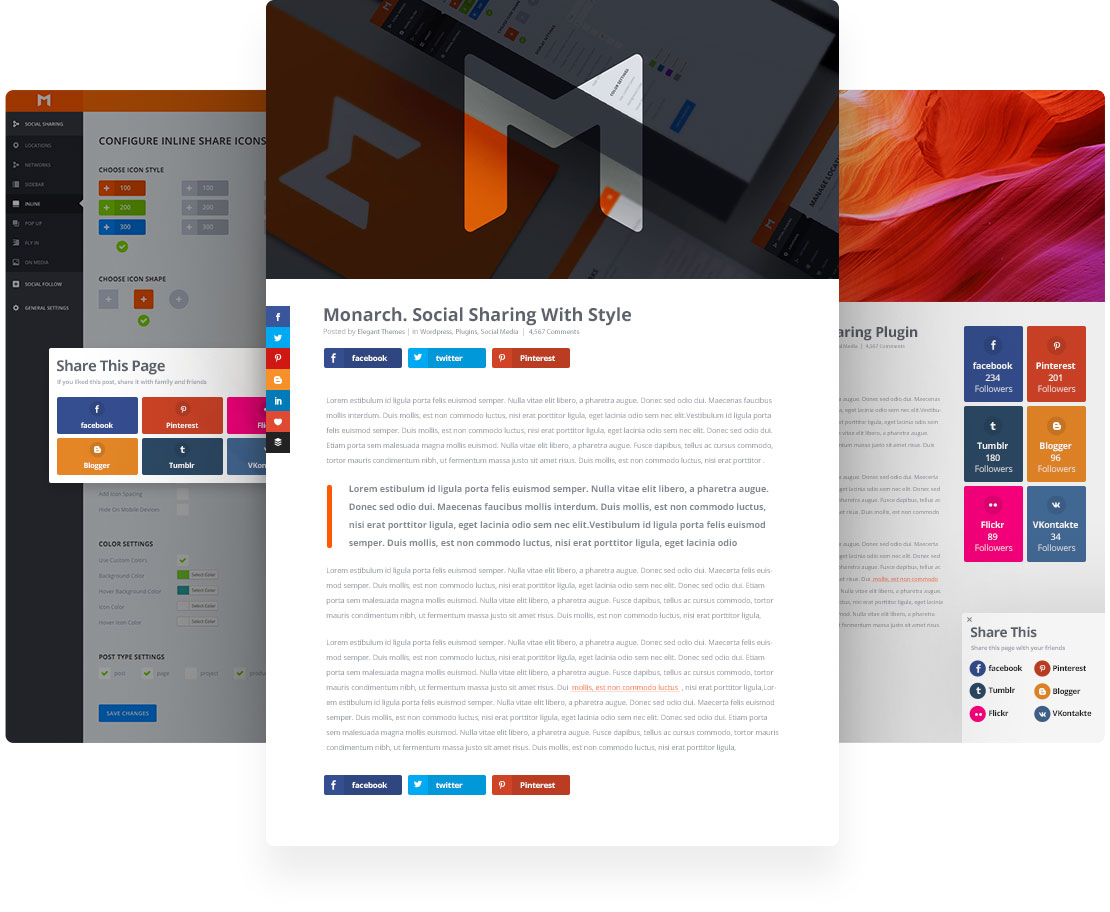 Monarch is a social sharing wordpress plugin designed by Elegant themes. The plugin takes social sharing to the next level by providing a number of features that many other plugins do not provide. The plugin supports more than 20 major social networks. When social sharing is considered, the needs for different pages, posts or websites differ. Hence, the plugin provides a webmaster to add social sharing buttons to five different locations. These include floating sidebar, above & below content, automatic pop up and automatic fly in.
The plugin also provide six automatic pop up and fly in triggers which help in letting you place the buttons infront of your visitors when they are engaged with the content or when they are about to leave the site. These include timed delay, bottom of post, after commenting, upon scroll, after purchasing and after inactivity.
You can build your social following by displaying your social profile buttons with counters in almost any widget area. The plugin provides clean and customizable code. Besides these, the plugin keeps a note of all the counts, gets itself ready to make the plugin and social buttons load faster & provides the buttons which are responsive.
Digg digg is an all in one social sharing plugin. With the help of this wordpress social sharing plugin, users can add a floating bar with share buttons to blog. You can have a floating share bar or a horizontal set of social sharing buttons above or below the post by modifying settings. It also provides lazy loading effect which helps in decreasing the amount of time taken for the web page to load.
Easy social share buttons for wordpress premium plugin is an all in one solution which allows users to share and helps webmasters to monitor the results and increase social popularity. Besides the 20 of the major social networks which are supported by the plugin, it also has love this button, send to email and print easy button. With 19 beautifully designed templates, easy social share buttons for wordpress plugin provides users with complete freedom and ease of configuring the same.
Created at wpbeginner, Floating social bar wordpress plugin is geared towards maximizing social media visibility without impacting site speed. It is a light weight wordpress plugin that adds a horizontal floating share bar to blog posts, pages & other post types. The floating ability allows eye catching social media bar to get maximum shares.
When compared to  other social media plug-ins,  floating social bar supports only major social media networks like Twitter, Facebook, Google plus, LinkedIn, Pinterest. It also loads  the scripts only when they are necessary. The plugin is very simple to use and provides users with a drag-and-drop feature which lets them to choose the social networks that they would like to display.
Jetpack
JetPack WordPress plugin by Automattic, the company behind WordPress is a powerful plugin which brings a set of powerful features available for WordPress.com to the users of self hosted version of WordPress.
Besides the many features provided by this plugin, it provides the users with visitor engagement tools which help in increasing traffic. These include enhancer distribution, spam free comments, short links, likes, notifications, related post, publicize, social sharing buttons, subscriptions and site verification tools. Various services supported by Jetpack WordPress plugin are Facebook, Twitter, Tumblr, Pinterest, StumbleUpon,Press This, GooglePlus, LinkedIn, Print, Digg, Reddit, Email, Pocket. The plug-in also displays the number of times a post is being shared on social networks within the button for a particular social network.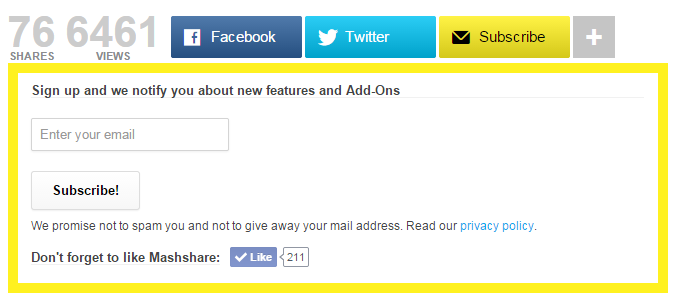 Mashshare is a professional and highly customizable WordPress social media sharing plugin. The plugin has free and premium versions. In the free version, users are provided with support for only two services which are Facebook and Twitter. The plugin has a great and appealing social count stats being displayed which further enhances the look and feel of the site.
The number of services can be further extended by purchasing a premium version. The plugin can also be extended for additional services and features through addons which are being developed by the same developer. Some of these addons include Video post popup, Facebook like bar, Mashshare social network addon, Sticky share bar,Mashshare responsive add-on, Google analytics integration, Mashshare page views, Mashshare open graph, Mashshare like after share, Short URLs integration, Social locker – pay with a like.

Written by Don Caprio, DC simple share buttons has no javascript and does not rely on external resources to load. It is written in PHP, HTML and CSS. Because of this nature, the plugin loads pretty fast which helps in decreasing the amount of time taken to load a webpage.
Shareaholic wordpress plugin provides webmasters with the ability of displaying social sharing buttons, related posts in the website. Besides that, it also provides analytics to keep a track of what has been shared and how many times it has been shared. The plugin is an all in one content amplification  and monetization platform which helps webmasters to grow traffic, market the content, gain insights and monetize all the traffic.
Optimized for wordpress, share buttons by addtoany is a wordpress plugin which supports more than 100 social sharing and bookmarking websites. Installing the plugin helps people to share, save and email your posts or pages. The share buttons are responsive and can be placed either as a horizontal set or as a vertical floating bar. The sharing buttons can either be added before content, after content or can be added in both the places (before & after the content). It can be integrated with Google Analytics. Webmasters can also track shared links with the help of bit.ly, awe.sm, goo.gl and other URL shorteners. The plugin is suitable for all the device presets and provides responsive buttons.
Sharethis service provides this plugin which facilitates the webmasters with social analytics, copynshare, open graph sharing and hovering bar. The service lets your website visitors share content to 120+ social networks like Facebook, Twitter, Linkedin and Pinterest. CpoyNshare is the widget feature provided by the plugin. This helps you to track the shares that occur when a user copies and pastes website content or url. The hovering bar is always present on the left or right side of the content and makes it easier for users to share the content.
As the name indicates, simple share buttons adder wordpress plugin is aimed at providing the webmasters the ability to add share buttons easily to all of the posts and pages. The plugin is simple and easy to use. With the help of this plugin, you can even upload and use your own custom images if you wish.
The free social sharing wordpress plugin, simplified social sharing is compatible with wordpress multisite, buddypress and bbpress. The plugin facilitates a webmaster to help people share content to more than 50 social networks. Loginradius, the developer also provides various plugins for other platforms like joomla, drupal, prestashop, vanilla forum, oscommerce, zencart, x-cart, vbulletin, blogengine and dotnetnuke.
Smart website tools by addthis
Addthis has been traditionally known as a sharing tool. But, the service has taken website tools to the next level by providing users with tools like recommended content, conversion tools and analytics. With the help of social sharing tools which are unobtrusive and quick to load, you can help the users or visitors of your website in sharing the content published to more than 330 of the most popular social networking and bookmarking sites. These include Facebook, Twitter, Pinterest, Google+, Whatsapp, Linked and others.
Recommended content tools that it provides helps in keeping the visitors for a longer period of time on your website thereby helping in reducing the bounce rate of the website. Addthis provides conversion tools like email subscriptions, event registration rate etc and analytics to measure the usage of the buttons and number of times the content gets shared etc.,
Socialize
Socialize wordpress plugin provides an easy way to selectively add actionable social sharing buttons to your posts. The plugin provides an additional panel in your posts admin that allows you to select which sharing buttons you would like to display. This encourages people to choose more relevant sharing buttons for posts. Displaying only relevant buttons help in increased sharing. Besides these, the plugin also provides a box at the bottom of the posts which asks your website visitors to subscribe and comment. The plugin also provides users the flexibility top change the call to action template and overwrite the default css.
Social sharing by danny
Adding additional weight of more than 50 kilobytes for scripts and styles doesn't make a sense when social sharing buttons are considered. These are generally not concentrated upon by user. Hence, the plugin social sharing by danny has designed to be very simple and does not depend on external scripts. It provides simple and lightweight method of having the sharing buttons enhancing the speed of the website.
Sumome
Most of the times, readers read a blog and leave. How about converting this traffic to create a long term beneficial value. Sumome wordpress plugin provides tools which could help in growing your blog by engaging visitors. The tools like highlighter makes it easy to tweet, imagesharer makes it easier to share images, and list builder tool helps in building your email list. The plugin also facilitates integration with Mailchimp, Aweber, Constant Contact and Campaign Monitor. Pagespeed is an important factor and is taken care by the plugin by providing asynchronous loading. The number of features provided by sumome makes it a reliable and one of the best wordpress social sharing plugins.
WordPress social media feather plugin sets itself apart from other plugins by focussing on simplicity, performance and unobtrusive support. It supports retina and high resolution displays. the plugin makes no use of javascript and hence loads faster providing all the social media functionality which is required. Inshort, wordpress social media feather is a super lightweight free social media wordpress plugin which helps webmasters to quickly and painlessly add social sharing buttons to all posts, pages and custom post types. It also provides social profile buttons to display in a widget or a location of the website and let users follow you on those respective social profiles.
Wp social sharing plugin adds very attractive and responsive social sharing buttons of Facebook, Twitter, Pinterest and Google+ to WordPress posts, pages or media. The plugin also provide an option to make a choice for getting the css/js loaded. Most of the plugins use images or api to display social share buttons. But, the plugin uses CSS3 to display these and does not rely on any external sources thus helping webmasters to get these buttons to load faster thereby enhancing the pagespeed.