Google Blogger (Blogspot) and WordPress are widely used blogging platforms by many of the bloggers. Both the platforms are free and are best when compared to many other free blogging platforms available. We have seen most cases where people start their blogging journey with Blogger (blogspot). Some of the new bloggers are confused about what platform to choose between these two by considering the differences between blogger and wordpress. Hence, in this post, we will go through the many differences that exist between Google blogger (blogspot) & WordPress (WordPress.org & WordPress.com)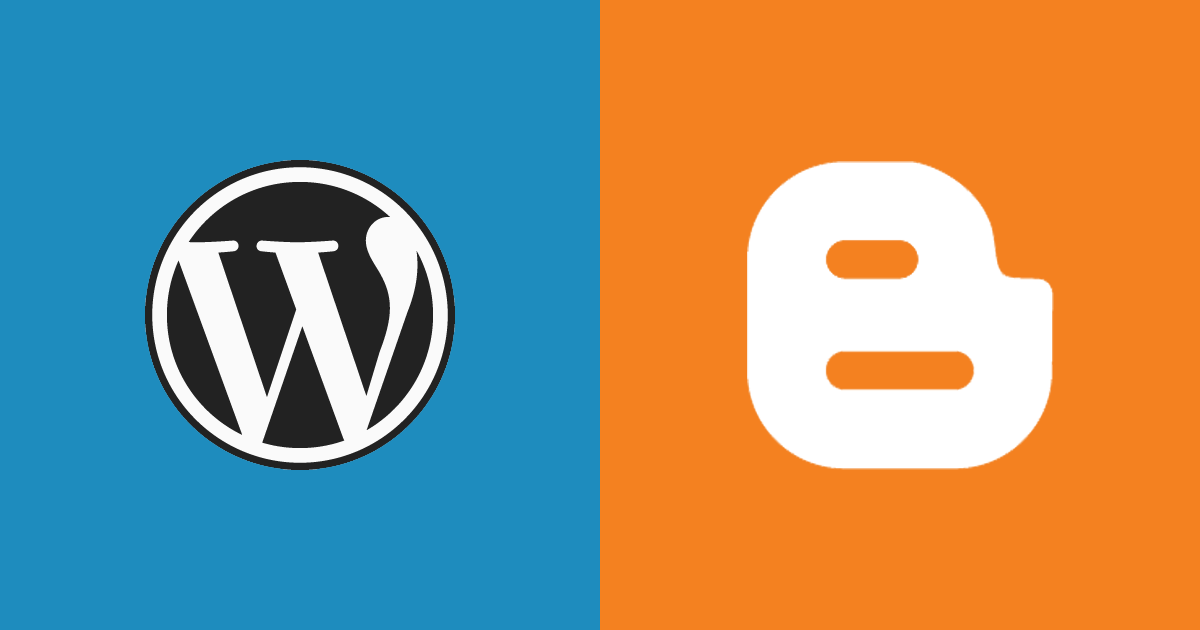 Differences between blogger and wordpress
There are many differences between blogger and wordpress. Out of the many differences, the following differences between blogger and wordpress make up to be marked as major differences which help in choosing a platform according to your needs. We have listed the differences in an alphabetical order and not based on a priority level.
Analytics
Being the products of Google, Blogger & Google Analytics are integrated. Besides that a blog created using Blogger also gets submitted to Google Webmaster Tools automatically in most cases. For WordPress, WordPress stats are available and when it comes to the self hosted version of WordPress, you can use WordPress stats with the help of Jetpack WordPress plugin or integrate Google analytics into your WordPress site.
Domain
A domain name represents your entire blog. By default blogger provides users with country specific sub-domains like blogspot.in, blogspot.co.uk etc., You can buy a domain name from Godaddy, Bigrock etc., and map it to your blogspot blog at no additional cost. The only cost that you should incur is the cost of the domain.
When it comes to wordpress.com, it provides a sub domain and if you want to map or have a custom domain for the blog hosted at WordPress.com, you should upgrade to a premium plan.
WordPress.org provides you WordPress software which is hosted on a server of your own on a domain or a sub domain of your choice. The domain cost and the server costs are the costs that you have to incur.
Functionality
Both blogger and WordPress.com provides users with the functionality of a blog. But with the help of WordPress software, users can create different types of websites like news portals, niche websites, coupon code websites, question and answer websites and communities.
Hosting
Google Blogger (Blogspot) is hosted by Google. There is no way through which you can install it on your own servers. It is hosted by Google servers and I knew a few blogs which serve even 100,000 visits a day without any problems. Yes, the numbers are the same that I have written. Blogger can serve high volumes of traffic without any issues provided that the source of traffic is natural. Any other method of traffic generation will be suspected and the blog will be taken down without any further notice (the biggest problem with blogger aka blogspot).
WordPress.com is a hosted version which is hosted by Automatic, the company behind WordPress. It hosts a good volume of traffic but you have to be very careful when you are hitting high numbers.
WordPress.org provides the software which can be downloaded and hosted on your own server. You host it, develop it and destroy it. The amount of hosting that your site requires depends on the volumes of traffic you get and the hosting should be scaled accordingly.
Images
The images you upload to your blog when using Blogger.com count under the limit that has been given for you in the Gmail account. Exceeding the limit is not accepted and you should host your images in other places or pay for hosting additional images.
WordPress.com provides 3GB of storage space and if you need additional space, you have to upgrade the plan. If you do not want to, you can use some of the image sharing sites and have your images hosted at these sites.
WordPress.org is your own hosted version where you host the website on your own server. All the files will be stored in the uploads folder within your website. You can increase the amount of space required according to your needs
Mobile blogging
Blogger has Android and IOS apps which can help you blog from your mobile. WordPress also has mobile apps for Android, IOS, Blackberry, Windows Phone and Symbian operating system.
Monetization
Blogger (blogspot) is the Google product. Google also is the company behind Adsense which helps publishers and webmasters monetize content and earn money out of the traffic. Not only Google Adsense, the blog can also be monetized with other forms of advertisment like intext ads, CPM ads, CPA ads and affiliate links as long as they do not violate the terms and policies of Blogger.
WordPress.com does not provide the users with the ability to place ads. The only option available to earn money from blogs created at WordPress.com is through Wordads, a program owned by WordPress.
WordPress.org is self hosted. You host it and it depends on how you monetize it. You can place adsense, banner ads, affiliate links or anything according to your preferences.
Permalinks
Blogger provides users with a default permalink structure which includes the year and month of publishing. It has the feature to edit the permalink now which used to be a default permalink in the past based on post title. However; the year and date of publishing still occupy the space in your url and you have no option of changing this.WordPress.com also does not enable users to change permalinks.
WordPress software hosted on your server gives you the freedom to change permalinks according to your needs. You can choose from a wide variety of options and even have a custom permalink structure of your own to meet your requirements and needs.
Pinging
Whenever a post is published, various services including search engines should be notified about it. When you ping the service or search engines, it helps the bots in finding your content easier.Blogger by default sends fat pings using pubsubhubbub protocol. But, it does not ping many services.WordPress.com pings a few services.
When it comes to WordPress.org, you can choose a complete list of services which you would like to ping your updates and list them out using the settings within the dashboard.
Plugins and extensions
Blogger is hosted by Google. The functionality of blogger can be enhanced by the means of blogger widgets. However; there are third party codes (javascripts etc.,) written which can be placed as widget for enhancing the functionality of the blog. But, there are a few official widgets provided by the platform.
WordPress.com provides a list of plugins to be available for its users and additional plugins which are found in the repository can not be installed.
The self hosted version of WordPress helps you to install any plugin of your choice without any restriction. However; make sure to review your plugins before installing them since a plugin coded poorly can have its adverse effect on the functionality of your site.
Security
Blogger, the Google product provides an additional layer of security through dual authentication factor. If you have set up dual authentication for your account, you will receive a code to your mobile which is to be entered followed by the password.Besides this, the internal code or functionality is completely secured or maintained by Google.
WordPress.com does not provide any other functionality for enhanced security besides password. Besides that, the entire security is taken care of by Automatic, the company behind WordPress.
WordPress.org can be enhanced for security by using various plugins that can add a layer of security over wp-admin folder or avoid brutal attacks.There are also other services like Sucuri to protect the website, Vaultpress to take real time backup of the site etc., to help in maintaining the site.
SEO
Many people say that Blogger gets indexed faster when compared to WordPress. This has proved to be true for us in most cases. However; in the long run, the blogger results go down and WordPress stay on top for evergreen because of the permalinks.
Besides that, there is no control over the various URL types that get indexed while using blogger which can be limited by using WordPress. Blogger also provides all the posts with mobile URLS and creates duplicate versions of content. It also does not support the mechanism to stop indexing the labels. WordPress on the other hand provides a complete control over indexing and also provides various plugins like wordpress seo by yoast, all in one seo, etc.,
Increasing speed
Blogger blogs generally load faster. However; if you have placed additional widgets or have done something which is not supposed to be, the blog loading speed will increase. You can't enhance its speed by using services like CDN etc.,The above features also apply for WordPress.com
The self hosted WordPress lets you configure Maxcdn or Cloudflare or other CDN networks. It also helps in tweaking theme with the help of which you can reduce CSS and Javascript which can show a slight enhancement in page load speeds.
The above are some of the major differences between blogger and wordpress. If you think that we have missed out something or if you would like to share your feedback, please do use the comment form below.