Today, there are a lot of WordPress themes that are designed to develop a responsive website. A good responsive WordPress theme will not pose any difficulty, whatsoever be the user's platform of browsing. Take a look at these best premium responsive wordpress themes.
PageLines Framework Theme
PageLines have released an advanced version of their most popular drag and drop framework. New Pagelines Framework is now fully integrated with Twitter Bootstrap, LESS CSS processing that too live, new shortcode library, improved responsive grid system, new drag and drop sections and many other enhancements.
Flexible WordPress Theme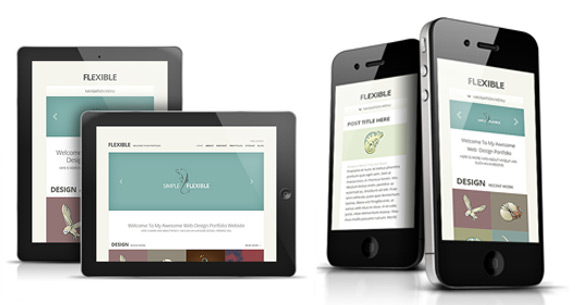 Flexible is a sleek and minimal portfolio theme packed full of some awesome features. The theme puts your work first, keeping the design elements to a minimum while still maintaining a definitive modern style. With its filterable, ajax-powered multi-media gallery, Flexible is perhaps our most feature-rich gallery theme yet.
Aggregate WordPress Theme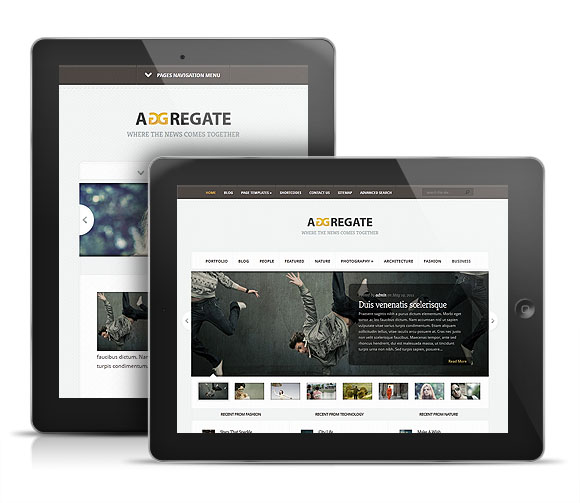 Aggregates comes packed with tons of content and widget-ready areas, and manages to display everything in a clear and readable manner. We have also added some handy new widgets, as well as many new advertisement areas. If you have been searching for a feature-rich Magazine-style theme for your blog, then look no further!
Clean WordPress Theme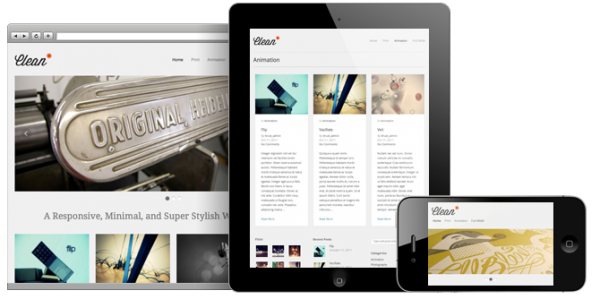 A responsive, minimal, and extremely stylish theme that looks amazing across multiple devices and screen resolutions. This versatile theme can be used as a blog or a portfolio to show off your work. It features infinite scrolling and a touch swipe slideshow.
Mindful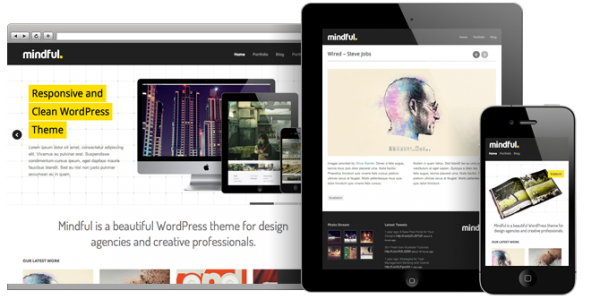 Mindful is a beautiful and responsive WordPress theme that's perfect for design agencies and creative individuals. Show off your best work in the home page sequence slider.
Click here to view more details
Hero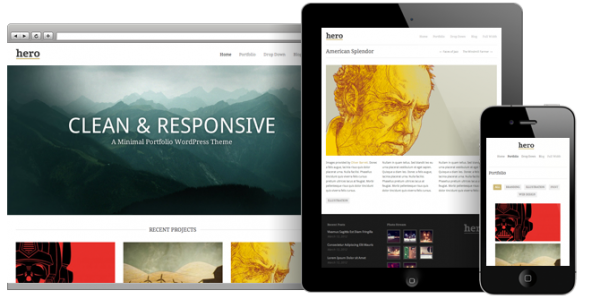 Hero is a responsive and minimal portfolio theme for creative types who want to show off their best work and highlight their services. One of the key features of this theme is the parallax home page banner.
Click here to view more details
Chameleon WordPress Theme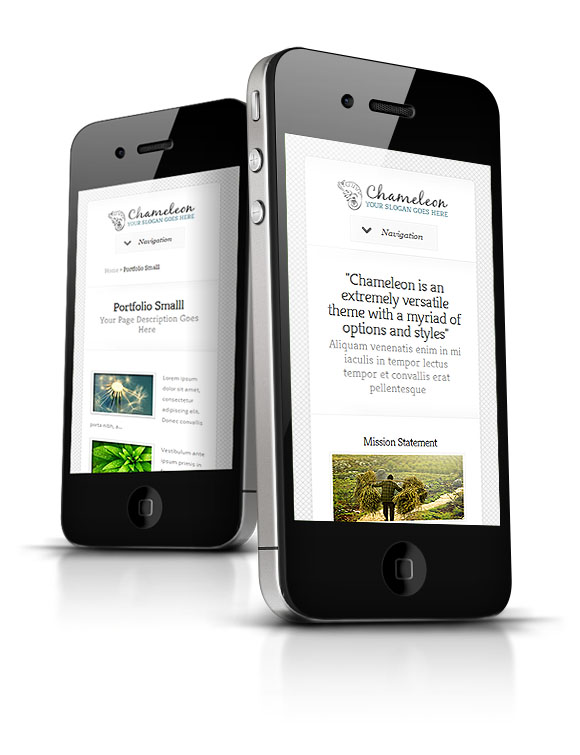 Chameleons are known for their ability to change the color of their skin. The patterns and color combinations you find in chameleons are almost endless, and our new theme is no different! Chameleon was created to be a simple and professional theme with loads of customization options that do not require web development experience to utilize.
Whiteside WordPress Theme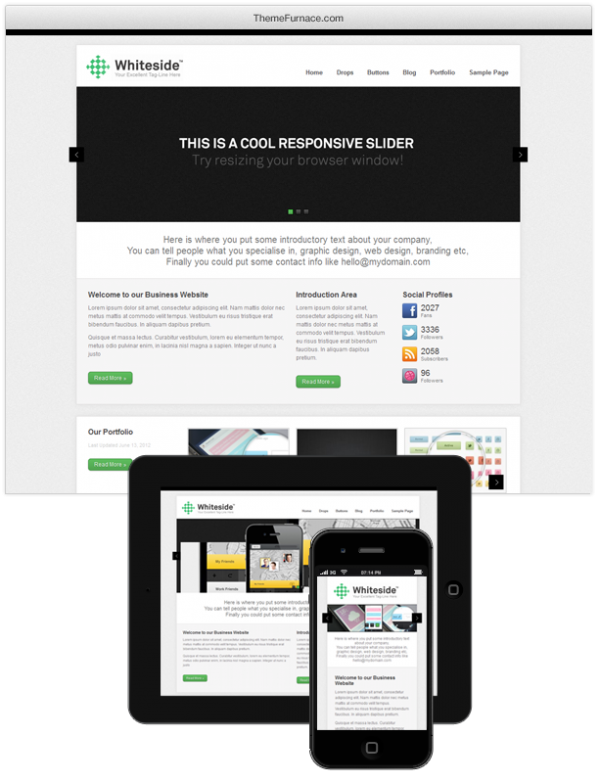 Whiteside is themefurnace first responsive theme, it has a clean business feel, responsive slider and portfolio section. Responsive means that this theme will look great no matter what your screen resolution is, try resizing your browser window to see or view the theme on a mobile device like phone or tablet.
Highrise Business Theme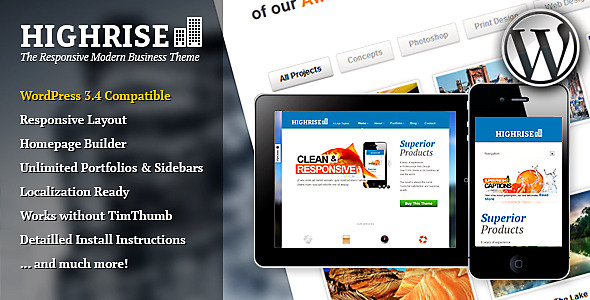 Highrise is a modern, visually stunning business theme with various areas of application. The responsive design provides a beautiful and easy to browse experience on Smartphones, IPhones & Ipad's.
Alyeska Responsive WordPress Theme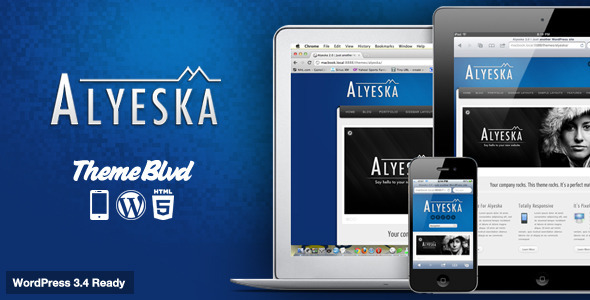 Elegance. Flexibility. Awesomeness. These are the words that instantly come to mind when trying describe this amazing WordPress theme. This is the theme that's going to get you or your client's site up and running in no time. With all of the possible combinations of layout options, you're sure to end up with a unique, elegant website that you can be proud of. Nothing has been held back with this one.
Reaction WP theme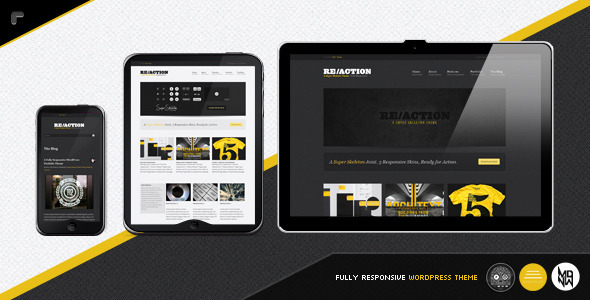 Reaction for WordPress is responsive (try resizing your browser) and fully SEO … that means that it'll flex to fit massive screens, or itty bitty iPhone screens (and everything in between).
ELOGIX Responsive Theme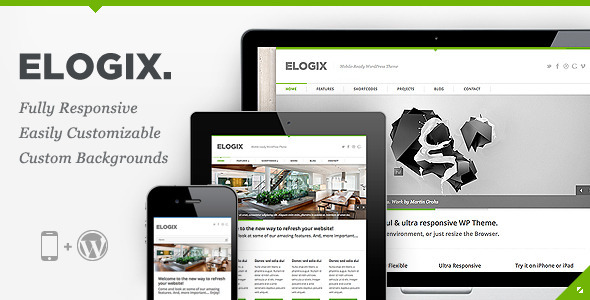 ELOGIX is an incredibly powerful & ultra responsive WordPress Theme that perfectly suits your Portfolio, Creative, Blog or Business Website.
Angular Responsive Portfolio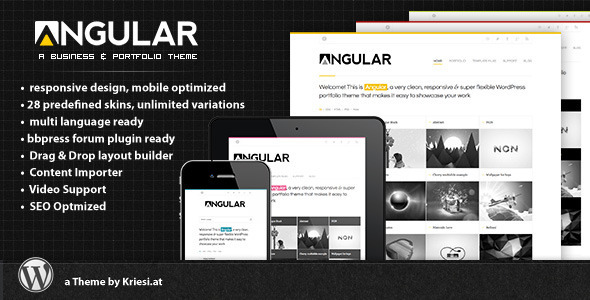 Angular is a responsive WordPress Theme (try resizing your browser), suited for users who want to showcase their work on a neat portfolio site.
Sterling Responsive WordPress Theme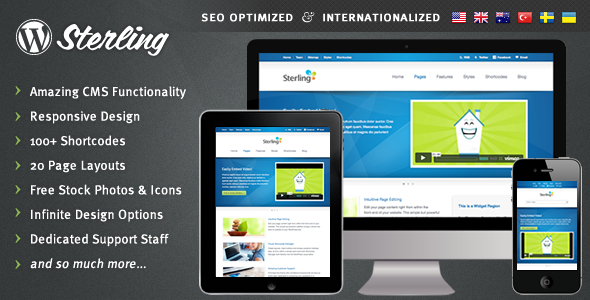 Sterling is a fully Responsive WordPress Theme built on a highly intelligent framework. It's the perfect theme for everyone in need of a professional online presence. Whether your a wordpress pro or just a beginner, you'll have absolutely no problems at all working with this theme.
Slate Responsive WordPress Theme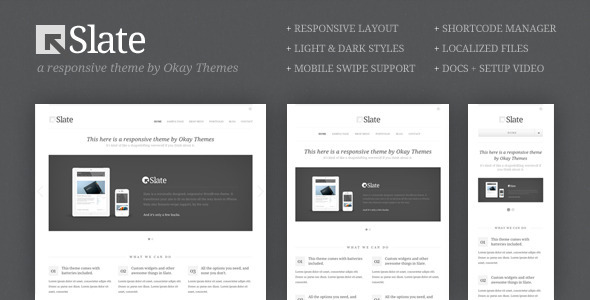 Slate adapts to your style as well as the device it's viewed on. Featuring a responsive design, you can scale Slate all the way down to iPhone size and still have a beautiful, full-featured site in the palm of your hand.